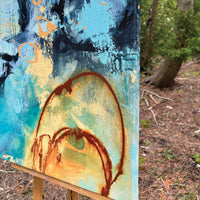 Acrylic on Canvas.
"Renewal, a new beginning. It's what happens every Spring! New life, new beginnings, fresh visions, new blooms after the dark and cold of winter. New beginnings embrace a sense of vulnerability, a raw and honest expression. My hope is that the viewer will explore the surface of these works, feel the fresh emotion within, witness the power and magic of the art in my visual poetry, get lost in the details and discover that my idea of beautifully different and interesting can speak to all."
Joan Callister is a Canadian painter and photographer whose life is centered around the longest shoreline of the Great Lakes. Born in Sarnia, summers in Bayfield, and now in Tobermory, Lake Huron has provided her with a constant source of raw beauty and wonder, from which she shares her exposure, being at one with nature. Intuitively, Joan actively applies paint to substrate, abstracting her environment and capturing the immediacy of 3D emotions onto a flat surface. This release exposes a vulnerable, soulful, and honest expression of her source.
The artwork is sold in perfect condition.
Includes signed certificate of authenticity.
Learn more about Shipping and more at Buyer's FAQ.