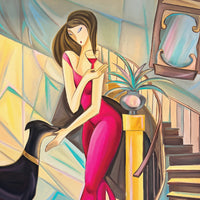 Woman and A Dog, 36" x 36"
Acrylic on Canvas, Framed in Gold.
"Woman and Dog," embodies a picturesque fusion of rayism, avant-garde, and abstraction. The female figure and her faithful companion, the dog, seem to interact on a deeper level. Shades of light and color create a light refraction effect, reflecting the warmth and amiability of this bond. Soft forms and sharp contours reveal the richness of the relationship between the person and the pet, as well as how their presence fills the home with life and joy.
My works invite viewers on a remarkable journey into a world of imagination and colours. They become windows into an alternate reality, where ordinary objects and scenes transform under the influence of my imagination and skill. The exhibition titled "Canvas Renewal" reflects the idea that the world around us can be perceived in an entirely new way when viewed through the prism of art. The visual effects I craft, akin to multicolored glass shards, bestow a special enchantment upon my paintings. This distortion and alteration of reality captures viewers' attention and prompts them to perceive the surrounding world differently. My artworks evoke a sensation as if the viewer is gazing into a captivating kaleidoscope, where each turn of the canvas reveals new facets of beauty and imagination."
Canadian artist 
Galina Stalnaya has nurtured a deep love for art since her earliest days. Stalnaya's artwork urge viewers to pause and look at the world from a fresh, brighter, and unconventional perspective. Her goal is to gift observers moments of awe and admiration before the beauty and uniqueness of the world around us, which we often overlook amid the routines of daily life.
The artwork is sold in perfect condition.
Includes signed certificate of authenticity.
Learn more about Shipping and more at Buyer's FAQ.