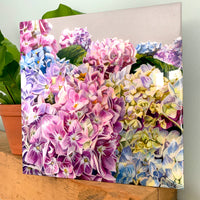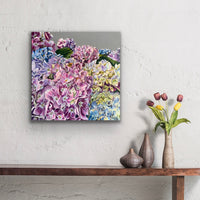 "Hydrangea Heaven," 12" x 12"
Mixed Media (Acrylic and Resin) on Gallery Depth Wood Panel
This piece was based upon a gorgeous hydrangea I happened upon during a country drive. The beautiful colour variations were unlike any hydrangea I have ever seen and I knew that I would love to paint it. I hope that this painting makes you think of a time when you may have stumbled upon a hidden treasure in plain sight, and the joy that discovering brings.
Elmira-based Canadian artist Melissa Passmore uses the power of colour in nature to invoke emotion and reflection of the moment at hand. A lack of background removes additional distraction and places the focus on the movement and light of the petals. She hopes that it highlights the beauty of a single moment in time that is there for us all if we endeavor to look for it.
The artwork is sold in perfect condition.
Includes signed certificate of authenticity.
Learn more about Shipping and more at Buyer's FAQ.