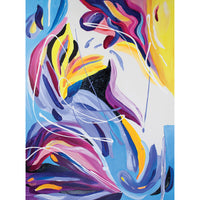 The Magic and Mystery of Life, 24" x 18"
Acrylic on Wood Panel.
"This painting tells a story of my own growth about opening up, accepting the past and flying towards the sun. It represents the feeling of joyful accomplishment and a surrender of control. It feels like receiving a 'good morning sunshine' at the start of a new day, it feels like a breath of fresh ocean air and being reminded of the endless possibilities at play. As a vivid lover of color I typically fill my canvas and rarely leave sections of plain white negative space. In this piece I was experimenting with opening up, leaving some white space to breathe and it truly helps to show the message of growth and rewenal. It has inspired me to continue in this new direction on future works. Painting this piece reminded me of the magic and mystery of life." 

Toronto-based abstract intuitive painter Amanda Wand uses art as a way to navigate the many complex emotions of our world. Through her work, the artist explores concepts of connectivity, identity, and self-worth. 
The artwork is sold in perfect condition.
Includes signed certificate of authenticity.
Learn more about Shipping and more at Buyer's FAQ.