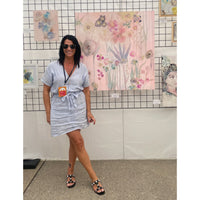 Alcohol Ink on Canvas.
Creating and staying inspired has been challenging, yet Mishel is fascinated by the delicacy and lightness of the colour palette. Her love of the natural world is always at the forefront of her creative process, even when she struggles to stay inspired she creates from a place of joy and wonder.

"I allow the ink to guide my creative impulses and each piece becomes a kind of visual diary. Sometimes, the forms manifest more organically. Other times they can take on an invisible, hidden quality, and yet are still reminiscent of the world around us. I love the dynamic interplay of light and shadow and how sights and smells seem to take over the canvas. Using alcohol ink allows for great depth in my art, it has a mysterious fluidity and is very malleable. I can watch, almost as a third person, as one shape evolves into something else entirely; I add layers of colour and then carve into the dry ink to bring out a rich network of detail."
Toronto-based abstract artist Mishel Schwartz's primary medium is alcohol ink — a medium she discovered by exploring the art scene on social media. Intrigued, she began experimenting with the inks and slowly developed a technique wherein layers of colour are added and intricate details are then carved out of the layers, giving her work great depth and mystery. 
The artwork is sold in perfect condition.
Includes signed certificate of authenticity.
Learn more about Shipping and more at Buyer's FAQ.