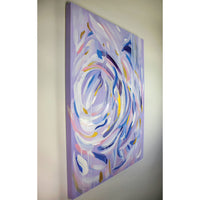 Authentic Awareness, 40" x 30"
Acrylic on Wood Panel.
"This painting is an abstract representation of my fullness, of a moment in time when I was fully feeling authentically me. I originally had a different plan for this painting but once I started, I knew I needed to surrender to my intuition. I loved every minute of creating this painting, it flowed out of me and I was able to express how I see the beautiful intersection of confidence and softness. When I look at the painting now, I am reminded of the power we all possess to be authentically ourselves."
-Amanda
Toronto-based abstract intuitive painter Amanda Wand uses art as a way to navigate the many complex emotions of our world. Through her work, the artist explores concepts of connectivity, identity, and self-worth. 
The artwork is sold in perfect condition.
Includes signed certificate of authenticity.
Learn more about Shipping and more at Buyer's FAQ.