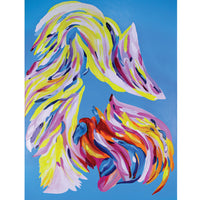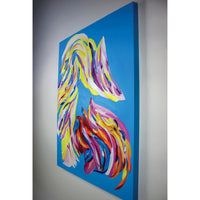 Choosing Joy Every Morning, 40" x 30"
Acrylic on Wood Panel.
"This piece was created in January of 2022 at a time when I was actively working toward being more positive and improving my mental health. I found such joy in painting this large painting every day while listening to cooking videos on the internet. It was comforting to go slow on the canvas with textured paint on a palette knife while listening to someone else create with completely different materials. Painting this piece brought happiness to me at a time when I really needed it and through creating it, I felt more myself."
-Amanda
Toronto-based abstract intuitive painter Amanda Wand uses art as a way to navigate the many complex emotions of our world. Through her work, the artist explores concepts of connectivity, identity, and self-worth. 
The artwork is sold in perfect condition.
Includes signed certificate of authenticity.
Learn more about Shipping and more at Buyer's FAQ.