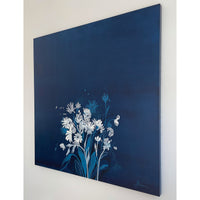 Daisies Wisdom 4, 48" x 48"
Acrylic on Canvas.
48" x 48" x 1.5"
"I feel my paintings have a language of their own that I cannot explain. When I pick up a paint brush it's like Poetry… the brush moves through me with all I have experienced… surrendering to it, anticipating the outcome. I use dark colours to express the struggle and light colours for happiness. They both must exist to create the balance. The looseness of the brush strokes and observing the imperfections are in a sense perfect… like poetry on a canvas."
Canadian artist Bibiana has been refining her skills in abstract florals and landscape paintings for the past several years. She started off as a realistic painter, but that didn't excite her. She wanted to tap into more intuitive way of painting. She likes working with acrylics, fluid acrylics and inks… exploring how these mediums work together in layers on a canvas and water-colour paper.
The artwork is sold in perfect condition.
Includes signed certificate of authenticity.
Learn more about Shipping and more at Buyer's FAQ.