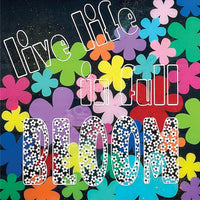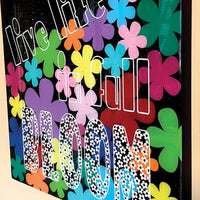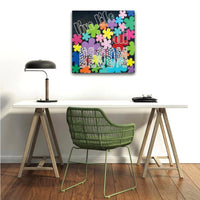 "Live Life in Full Bloom," 24" x 24"
Mixed media on Wood Panel (Acrylic, collage, and resin).
"Live Life In Full Bloom was created after I saw a 1960's inspired dress on Instagram. The dress had a black background and all these beautiful multi-colored flowers on it. I love summer when flowers are in full bloom as it gives renewed hope. An early memory of flowers for me was living next door to an empty lot and I used to pick daisies and dandelions and bring them home to my mother. The dandelions weren't weeds, they were beautiful yellow flowers. In the eyes of the beholder!!"
-Gail
The collage is colourful five-petal flowers with a word overlay in white. The resin finish adds life to this piece. All the colors pop on the black background as well as the black itself.
Toronto-based artist Gail Blima is a creative innovator who has explored photography, representational art, and mixed media. Her artwork uses the power of language to make a statement and draw out emotion. By layering vibrant acrylic accents over a collage base and incorporating the written word, she connects the audience to cultural references that are ironic, humorous, or directed from pop culture.
The artwork is sold in perfect condition.
Includes signed certificate of authenticity.
Learn more about Shipping and more at Buyer's FAQ.