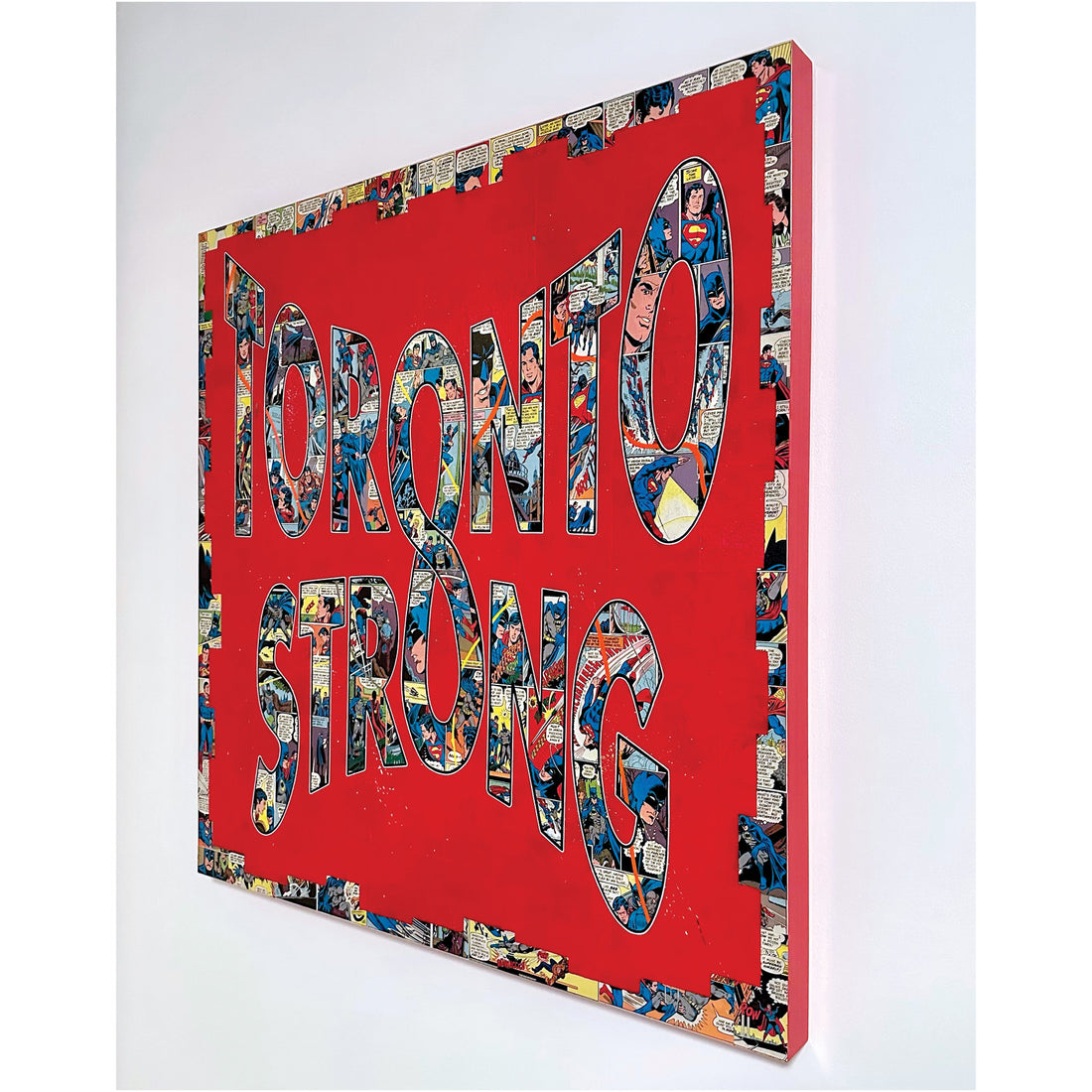 It is Infinite (Toronto Strong), 30" x 30"
Mixed-Media on Wood Panel.
30" x 30" x 1.5"
"I love this piece!! I always find it interesting…as an artist and creator that I like some of my pieces more than others, it's not like they are my children whereas the ranking system is a massive faux pas. What I am trying to say is it seems like the pieces I often like the most are the ones that take longer to sell…🤔🤔🤔.

This piece is bursting with vibrancy. The background is a collage of only Batman and Superman. The comic strips are not on typical newsprint paper that tends to give a more antique feel, this paper is sharp and colourful, bold I might add.

The overlay is in my favourite go-to red which is pyrrole red. I can't get enough of this colour, you can see it in so much of my work. Together they just exude brightness and joy. The infinite symbol that links the two words Toronto and Strong showcases Canada's largest city in a positive light.

With its dynamic metropolis and cosmopolitan flair, Torontonians are passionate about their city, to say the least. Strong love of community, a strong sense of pride, passion about their teams (Go Jays Go), and an infinite amount of unbounded strength."
-Gail

Toronto-based artist Gail Blima is a creative innovator who has explored photography, representational art, and mixed media. Her artwork uses the power of language to make a statement and draw out emotion. By layering vibrant acrylic accents over a collage base and incorporating the written word, she connects the audience to cultural references that are ironic, humorous, or directed from pop culture.
The artwork is sold in perfect condition.
Includes signed certificate of authenticity.
Learn more about Shipping and more at Buyer's FAQ.