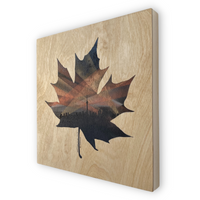 "Motherland No. 5," 10" x 10"
Acrylic on Pine. Hues of bronze and copper.

10" x 10" x 0.75"

"My first release is of the iconic Toronto skyline, "Motherland" No. 1 - 6.  This familiar sight is one that I hold close to my heart. The typical hustle and bustle of the downtown core were affected greatly by pandemic restrictions. The city slowed down and once popular tourist destinations became far less crowded.  
I wanted to bring life back into the city while still holding onto a more moody palette that would reflect the changes the core has undergone over the past two years. The dark skyline looms against a barrage of metallic hues. I love the element of life that metallic paints add to a piece, seemingly dancing throughout the day as the natural light in the room shifts. Sticking with my signature harsh lines and building upon these pigments created depth within the pieces, as though you can see the hustle and bustle of city lights reaching behind the skyline."
-Shaina 



Work by Toronto-based abstract artist Shaina Hardie aims to induce a sense of mindfulness and exploration of creativity: to spark conversation. She enjoys implementing color psychology into her work to compliment a myriad of desired emotions and productivity to enhance the design of corporate and living spaces.
The artwork is sold in perfect condition.
Includes signed certificate of authenticity.
Learn more about Shipping and more at Buyer's FAQ.